Bernard comes to the rescue with his selection of frozen hors d'oeuvres available exclusively at 109 Cheese and Wine Market.  Your party will be the talk of the town and it is so easy.
Truffle & Fontina Risotto Balls (15 pieces) $18.75
Risotto, parmesan cheese, fontina cheese, truffles and truffle oil
Chicken & Vegetable Spring Rolls (12 pieces) $14.00
Chicken, celery root, butternut squash, spinach, ginger, scallions, sesame oil
Vegetable Spring Rolls (6pieces) $12
Carrots, celery root, napa cabbage, scallions, ginger, sesame oil
Mushroom Quesadilla (12 pieces) $16
Wild mushrooms, cheddar cheese, shallots, herbs
Spiced Lamb & Feta Purses (12 pieces) $18
Lamb, feta, Moroccan spices, coriander, wrapped in filo
Sarah's Wine Bar Crisps  $8
Rosemary and Parmesan, try them with our Goat Cheese Red Pepper Spread.
Sarah's Gourmet Flat bread Pizza (serves 2) $10
We offer 4 different combinations (Grilled Vegetable with 4 cheeses; Â Duck, Fig with Fontina Cheese; Guanciale (unsmoked Italian bacon), Spinach, Mushroom with Parmesan Cheese;Â Â  Fennel Sausage, Broccoli rabe and Parmesan Cheese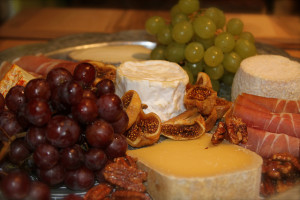 Put the finishing touch to your party with a beautiful and delicious Cheese and Charcuterie Platter.  Choose one of our selections or design your favorite combinations of cheese and/or charcuterie.  We will be happy to expertly design on your personal platter or we can provide a platter for you.
The "109 Just the Guys" 6-9 people $75               10-14 people  $110
3 Cheeses, 3 Salami's, fruit, nuts, displayed on two platters and an assortment of crackers.  **or put everything in a basket for $5 for a great gift
The "109 Just the Girls" 6-9pp $55           10-14 pp $95
4 Cheeses, fruit, nuts, and an assortment of crackers beautiful displayed on a platter.  Plus a little chocolate.  **basket $5
The "109 Grand" 15-20 pp  $175
The "109 Grand" assortment of 5 cheese, 4 salami's, 2 pates, fruit, nuts, crackers, and olives beautiful displayed on two platters.  **Or, put it in a basket for an extra $10.
http://109cheeseandwine.com/wp-content/uploads/2014/06/109-Cheese-and-Wine-Logo-black.png
0
0
Monica
http://109cheeseandwine.com/wp-content/uploads/2014/06/109-Cheese-and-Wine-Logo-black.png
Monica
2011-06-16 16:11:55
2011-06-16 21:02:53
Quick and Easy Entertaining