This is one of our favorite pairings!
Vacche Rosse Parmesan, Villa Manodori Dark Cherry Balsamic and a 2007 Barbaresco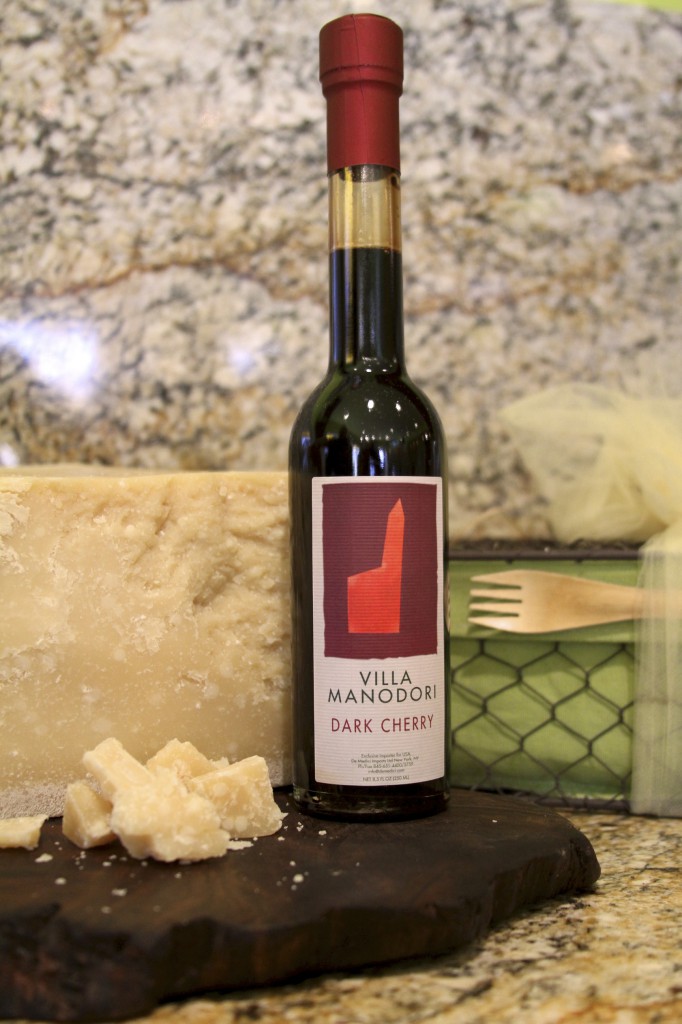 When we order our 24-month Vacche Rosse Parmesan, we order the whole wheel to insure the freshest most flavorful cheese possible.  The amazing flavor of this Parmesan paired with the Villa Manodori Dark Cherry Balsamic is perfect culinary indulgence.  As a holiday basket, this is amazing. It is so good you should send one to yourself.
Add a beautiful Barbaresco from our wine store and you have the perfect date night basket.
The ingredients:
The Parmesan –
"Vacche Rosse" (meaning: red cows), also referred to as "Razza Reggiana" (meaning: Reggio Emilia race), produce much lower milk yields than the Holstein and Fresian cross, Risona Italiana those are the primary producers of Parmigiano. The protein content of the "Vacche Rosse" is said to be higher, producing a richer, fuller cheese. The color shows that tendency, a buttery yellow in tone
The Balsamic –
Villa Manodori Dark Cherry Balsamic is the unique creation of Chef Massimo Bottura, owner of two-star Michelin restaurant Osteria Francescana in Modena, Italy. An expression of Chef Bottura's extraordinary talent for elevating the best ingredients, the condiment is a combination of authentic balsamic vinegar and prized sour cherries from Vignola near Modena. The condiment's delectable rich, fruity aroma and taste comes from aging traditional balsamic with Vignola cherry wood
The Barbaresco –
2007 Cantina del Pino Barbaresco, Piedmont, Italy
The 2007 Barbaresco emerges from the glass with red cherries, flowers, mint, minerals and licorice in a gorgeous expression of Nebbiolo. The 2007 shows the warmth and openness of the vintage in a restrained, highly polished, mid-weight style that is utterly irresistible. Anticipated maturity: 2011-2022.
People who haven't discovered Cantina del Pino yet owe it to themselves to do so. Proprietor Renato Vacca is making some of the most compelling wines in Piedmont today. Along with Andrea Sottimano, Luca Roagna and Giorgio Pelissero, Vacca is one of the most promising producers among the younger generation in Barbaresco.
Basket $75.00
Basket with wine $125.00
http://109cheeseandwine.com/wp-content/uploads/2014/06/109-Cheese-and-Wine-Logo-black.png
0
0
Monica
http://109cheeseandwine.com/wp-content/uploads/2014/06/109-Cheese-and-Wine-Logo-black.png
Monica
2011-12-10 18:07:56
2014-06-25 14:38:22
Parmesan and Balsamic Holiday Basket