Come on in on Saturday a taste a little Torre Maggiore with Brett at 109 Wine.
We will have a sampling of cheese too!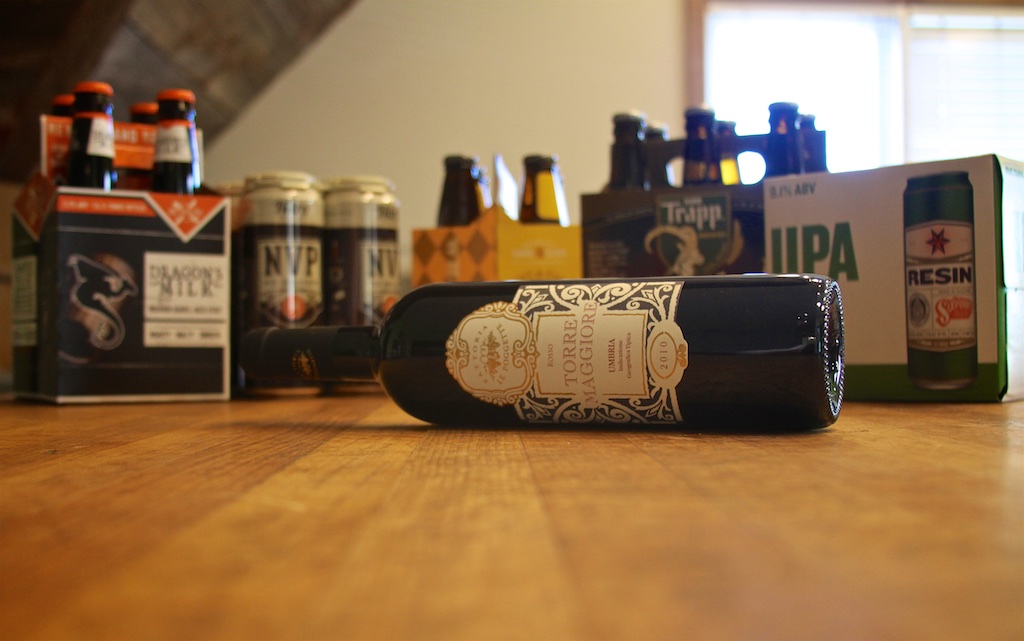 Wine
Torre Maggiore 2010 (Umbria) A classic Italian red.
Generations ago, Giorgio Lanzetta brought down Montepulciano plantings from his native Abruzzo to the hills surrounding the mountain of Torre Maggiore. The result is a unique expression of both terroir and Montepulciano grapes.
Notes of rich red and black berries, plum, leather, and earth, with a subtle note of iron and mint. Balanced, with a great finish and distinct earth flavors on the mid palate.
Great with grilled or roasted meats.
Cheese pairing, Pleasant Ridge Reserve
Beer
New Holland Dragon's Breath
A serious beer, not for the faint of heart! An Imperial Stout that sees some time in bourbon barrels, for added toastiness and a creamy texture. The oak smell abounds from the glass, with plenty of bitter chocolate, figs, vanilla, and wood. For such a burly style, this brew has balance and still keeps the crispness high to cut out the rich flavors from the malts. Wonderful with heartier foods like streaks, and stinky cheeses like Oma or Gubbeen from our cheese shop.
Ommegang Witte
A craft witte from Cooperstown, NY. A straightforward and delicious Belgian-style ale with wheat, sweet orange peel, and coriander brewed in. A lighter beer, this one is floral and grassy with the usual citrus notes. It has just a hint of spice which makes this beer excellent with BBQ or curry dishes.
Testun
Breckenridge Brewery Nitrobrew Vanilla Porter
A new take on a classic brew. A dark beer with a bear black liquid and a dense foam head. The use of nitrogen brewing has rendered this porter extra smooth and silky. Notes of milk chocolate, malt, a hint of roast, and above all, vanilla are present in this beer. Right now, drinking at the perfect spot between sweet and bitter. Try this with some Delice de Bourgogne for an added treat.
Sixpoint Resin Double IPA
An insanely bitter and hoppy beer, also for the bold! Featuring Centennial and Chinook hops up front which deliver loads of pine and resin aromas, this beer is serious and will slap you around with its complex hop bouquet. Put this ultra-sharp beer with a sharp cheddar, like Avonlea or Montgomery to match the aromas of the hops.
Von Trapp Brewery Dunkel Lager
Von Trapp's darkest year round beer however, looks can be deceiving. Dunkel features notes of chocolate, pumpernickel bread, and a certain nuttiness with a full malt back bone. Contrary to its dark color, this beer finishes crisp and clean with a round hop flavor. It has a lovely texture that coats the tongue but the effervescence washes the palate clean for a refreshing drink that pulls you back. Pair this with Gruyere or Emmenthaler.
http://109cheeseandwine.com/wp-content/uploads/2017/10/IMG_6965-1-1.jpg
641
1024
Todd
http://109cheeseandwine.com/wp-content/uploads/2014/06/109-Cheese-and-Wine-Logo-black.png
Todd
2017-10-27 16:21:58
2017-10-27 16:21:58
Come on in on Saturday a taste a little Torre Maggiore - Wine & Beer Notes 10-27-17