5 for 5 Cheeses and Wines that love each other
Loving cheese and wine is what we do.  These 5 cheeses and wines just pine to be together.  All of the cheeses are available at both our Ridgefield and Kent stores.  The wines are exclusive to Ridgefield but can be delivered to any of our Litchfield County customers homes.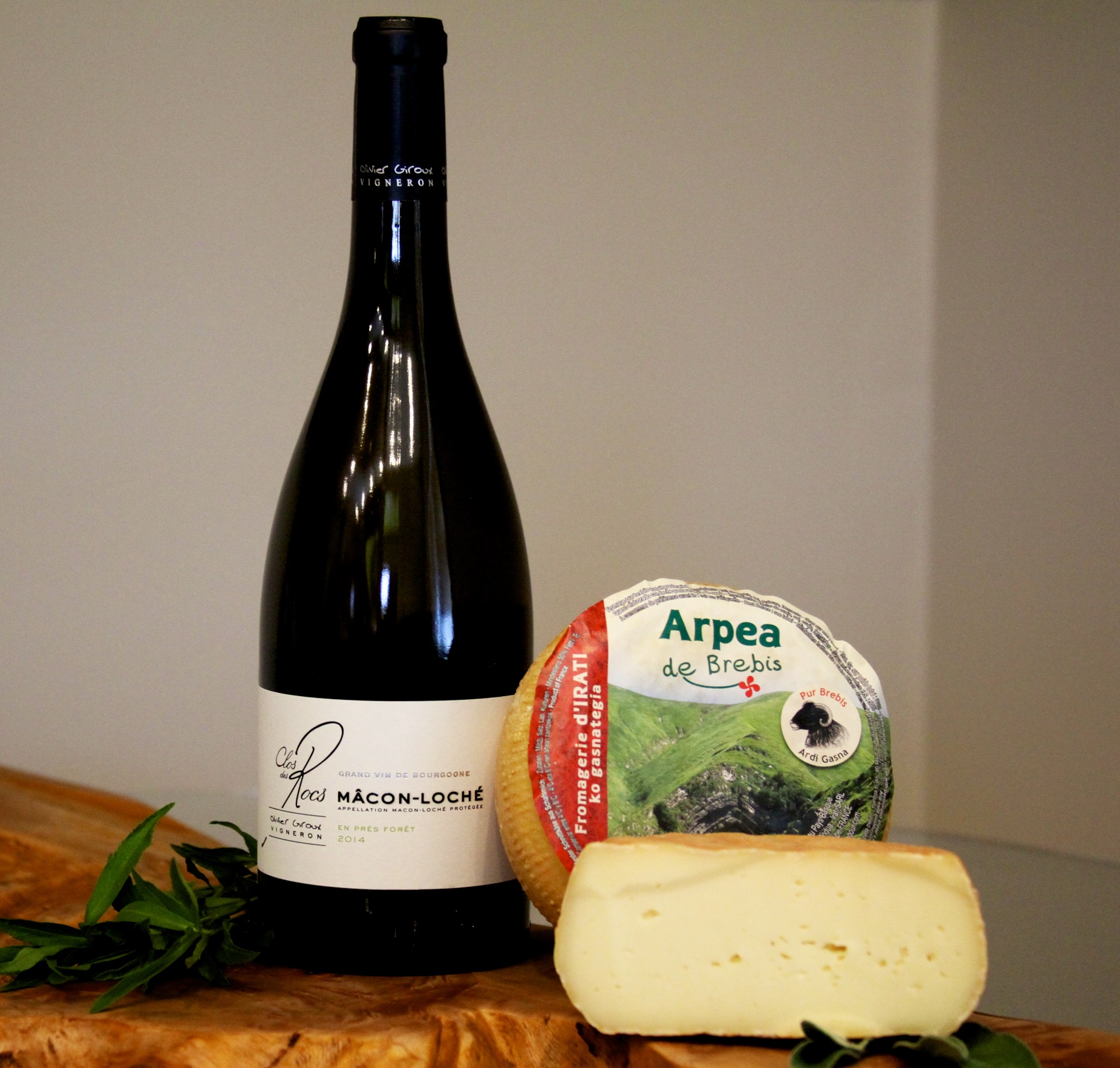 Clos des Rocs Mâcon-Loché 2014 French Chardonnay from Burgundy is fresh and clean, with pleasant aromatic concentration, citrus notes, and an airy finish. A beautiful bright and fresh styled white burgundy.
Arpea Brebis  – Agour is Imported from Agour in Pyrenees, this diminutive washed rind cheese is one of our favorites. The paste is soft and creamy and produced in small 2lb wheels. Although little of this makes its way to the States, we are one of the lucky ones. The washed rind packs a slight stink factor, but the flavors are mellow and balanced, sweet and buttery with just the right amount of funk and earthiness.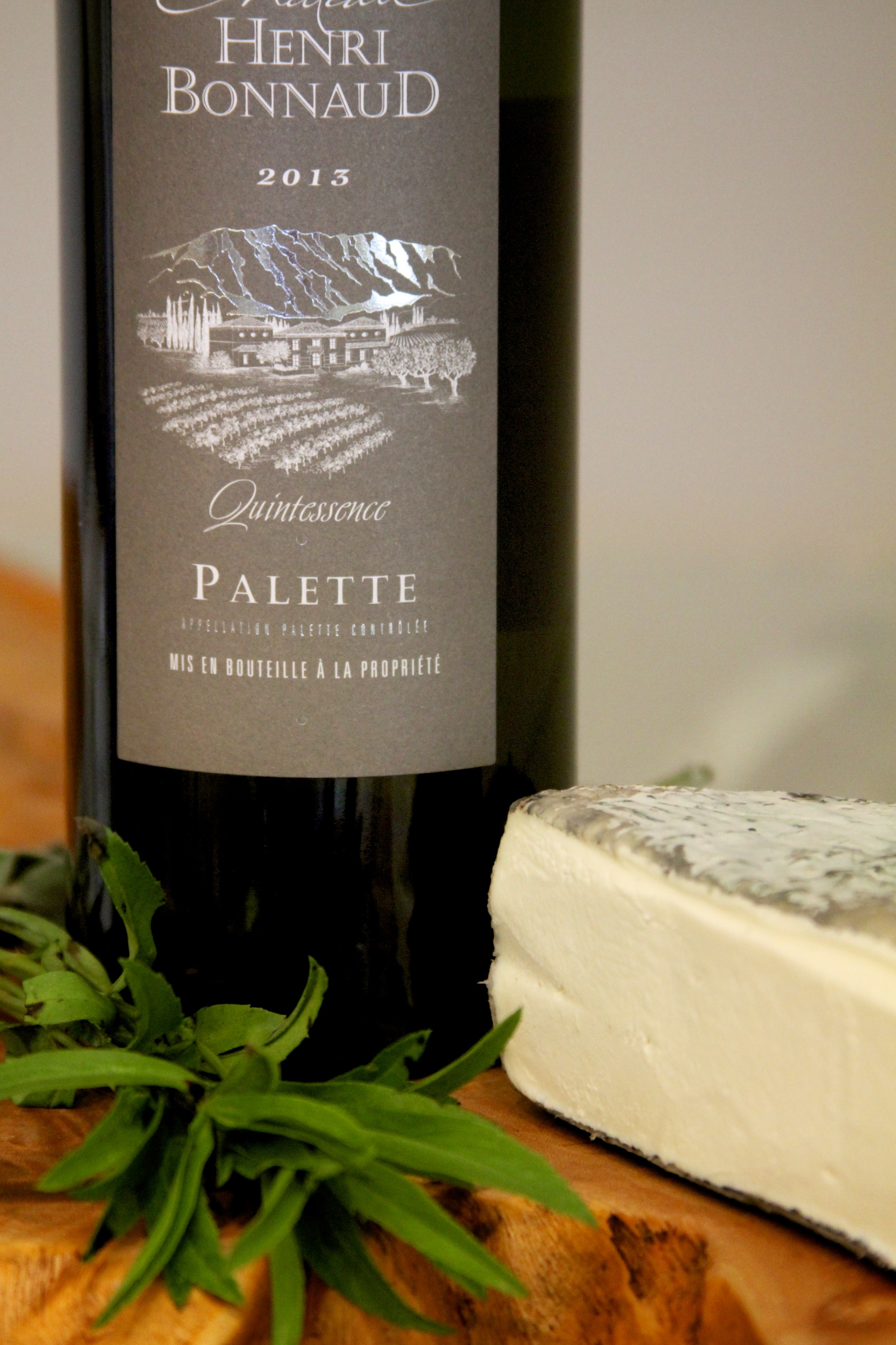 Chateau Henri Bonnaud Palette Blanc 2013 is a blend of Ugni Blanc and Clairette from Provence, France. An elegant aromatic profile expressed with intensity and complexity on floral notes blended with fruits aromas, it has a wonderful depth and persistence on the palate. This is a wine of  supreme elegance with good ageing potential, and golden tints over time.
Tome Grand Mere Adrienne  – Jacquin: This is such a beautiful French goat cheese, the ash mold ripened rind is gorgeous, taste is creamy and sweet, with a fudge-like texture, subtle nutty and buttery aspects in the long finish. The best thing is that is available all year long!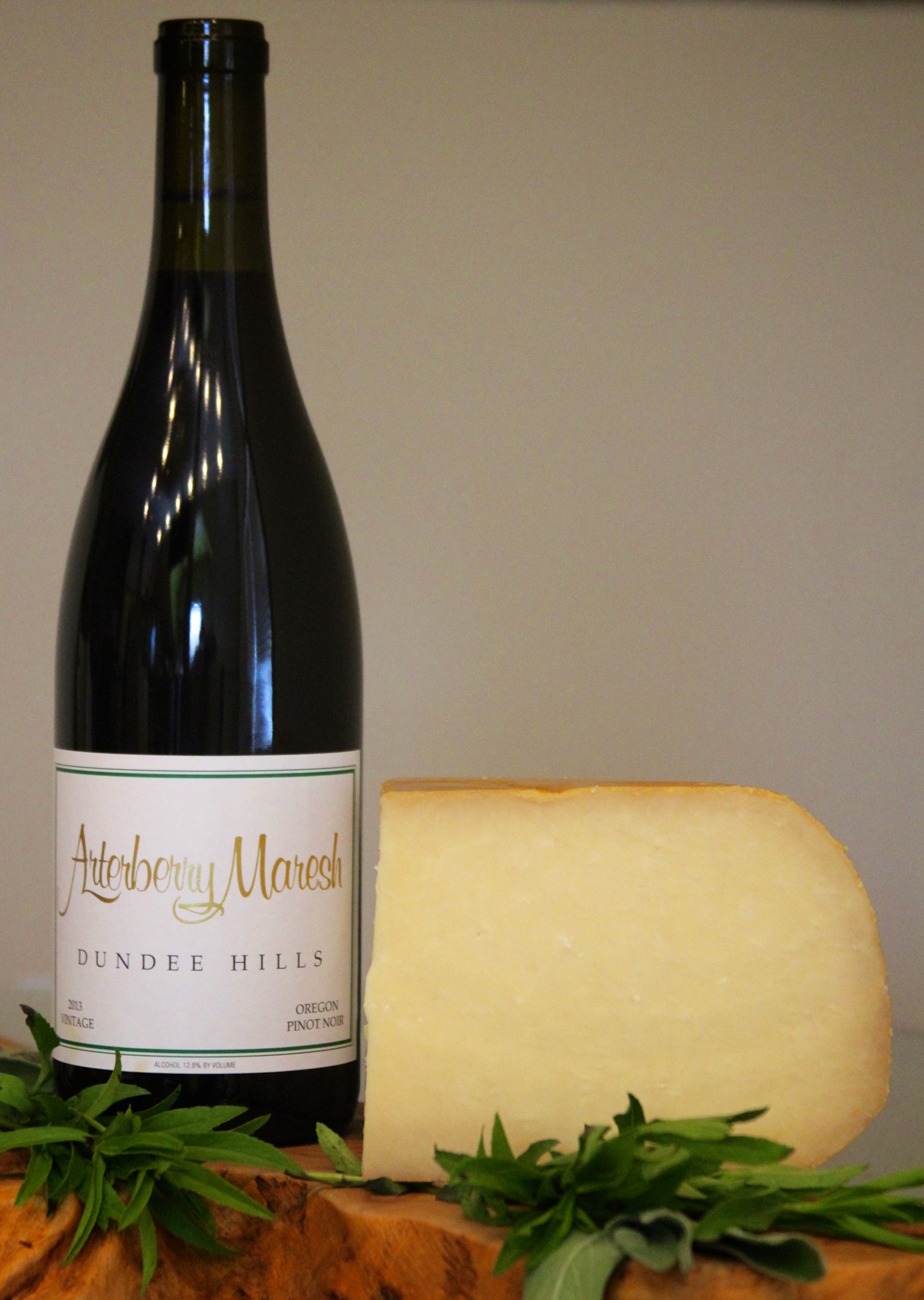 Arterberry Maresh Dundee Hills Pinot Noir 2013, a Pinot Noir from the Willamette Valley, Oregon is a most complex and layered Pinot Noir. It tends towards pure flavors of concentrated red berries, black tea, sandalwood, floral tones, stony spice, and berry bramble. The silken tannins and long, intricate mouth feel speak to the truly elegant profile of this wine, which always benefits from ample air upon opening.
Donatello from Cedar Grove Cheese, is a local Wisconsin institution complete with an environmentally conscious set of policies, including "The Living Machine," a greenhouse that cleans dairy wastewater before returning it to the earth.  Donatello is an aged, 100% sheep milk cheese with sweet with notes of toast, butter, grass and lanolin. The texture is slightly pliant and moist when young, with more age the wheels become slightly drier and more crumbly.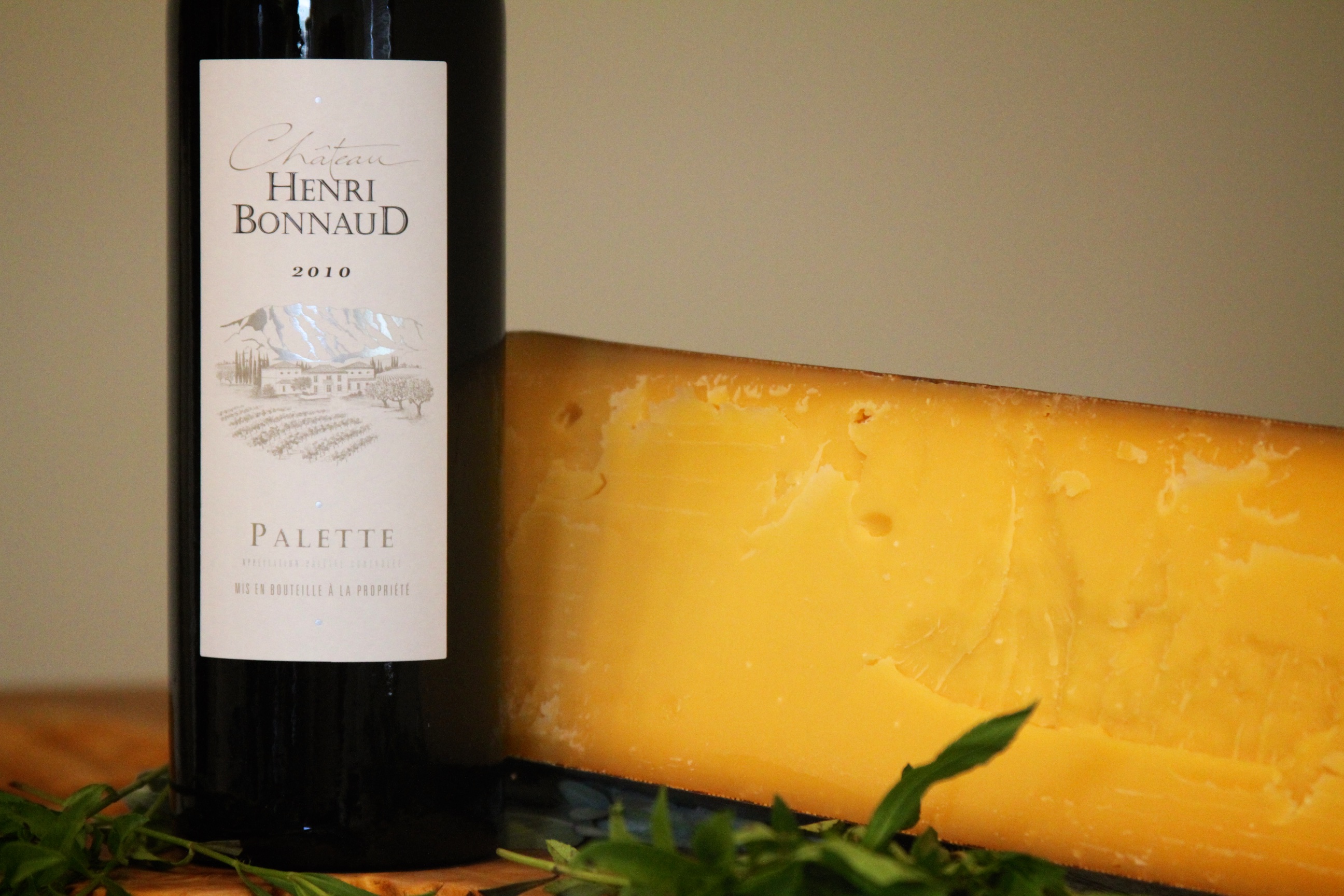 Chateau Henri Bonnaud Palette Rouge 2010 is a blend of Grenache, Mouvedre, and Carignan from Provence, France. The robe is of a deep cherry color with raspberry glints. The nose is subtle, fresh, marked by fresh fruits aromas (raspberry). The mouth is rich, full-bodied and allies volume and fineness. The delicate finish is characterized by ever young tannins yet silky, with a pleasant persistence of spiced and morello cherried notes.
Stompertoren Grand Cru is a strong tasting creamy Gouda cheese packed with salty sweet whiskey notes, this cheese is for connoisseurs! Made in the hart of the Beemster Polder and perfectly ripened in the cellars of Kees Remijn in Kerkdriel, a little village just 30 kilometer from Amsterdam. If you love Gouda, you are not going to want to miss this one.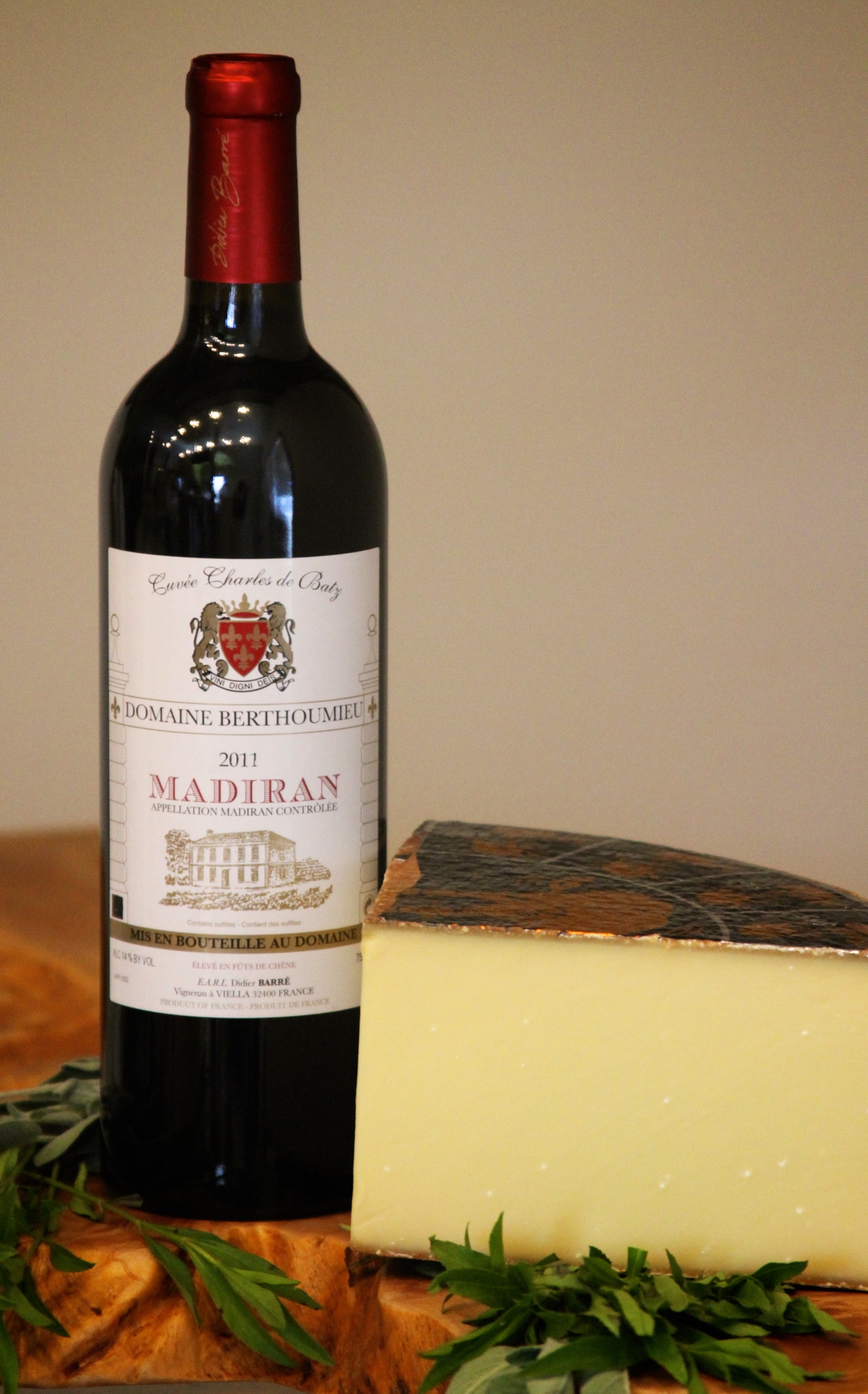 Domaine Berthoumieu "Cuvee Charles de Batz" Madiran 2011 is a blend of 90% Tannat & 10% Cabernet Sauvignon. This is a delicious, fine-grained Madiran that you can drink now or hold for years. It bears the classic inky purple hue of Tannat, with notes of black fruit (blackcurrant and blackberry) along with just a hint of red fruit. There is a cedar-like creaminess to the oak which is extremely well-integrated, and the tannins, though firm, are ripe and polished. Decant if you want to enjoy young, or lay away to allow this distinctive wine's unique secondary aromas and flavors of vanilla, coffee, and nutty spices to develop.
Maxx 365: One of our favorite cheeses!  "Der scharfe Maxx" is a natural, aromatic piquant cheese for cheese lovers. "Der scharfe Maxx" is a specialty cheese, created and produced by the Studer Cheese Dairy in Hatswil, Switzerland. Melt-in-the-mouth body and its extra-zesty, piquant taste, it is a pure pleasure for the palate. The basis is fresh, thermized raw milk. After the cheese is formed and brined, it is matured and treated with a wash in their special climate-controlled cellars. After 5 months of aging and a careful quality inspection, "Der scharfe Maxx" is ready for you to enjoy. And that's for sure!
http://109cheeseandwine.com/wp-content/uploads/2015/10/IMG_35491.jpg
2549
1699
Todd
http://109cheeseandwine.com/wp-content/uploads/2014/06/109-Cheese-and-Wine-Logo-black.png
Todd
2015-10-30 15:46:30
2015-10-30 15:47:28
5 for 5 Cheeses and Wines that love each other