Call for Reservations – Class size is limited – 203-438-5757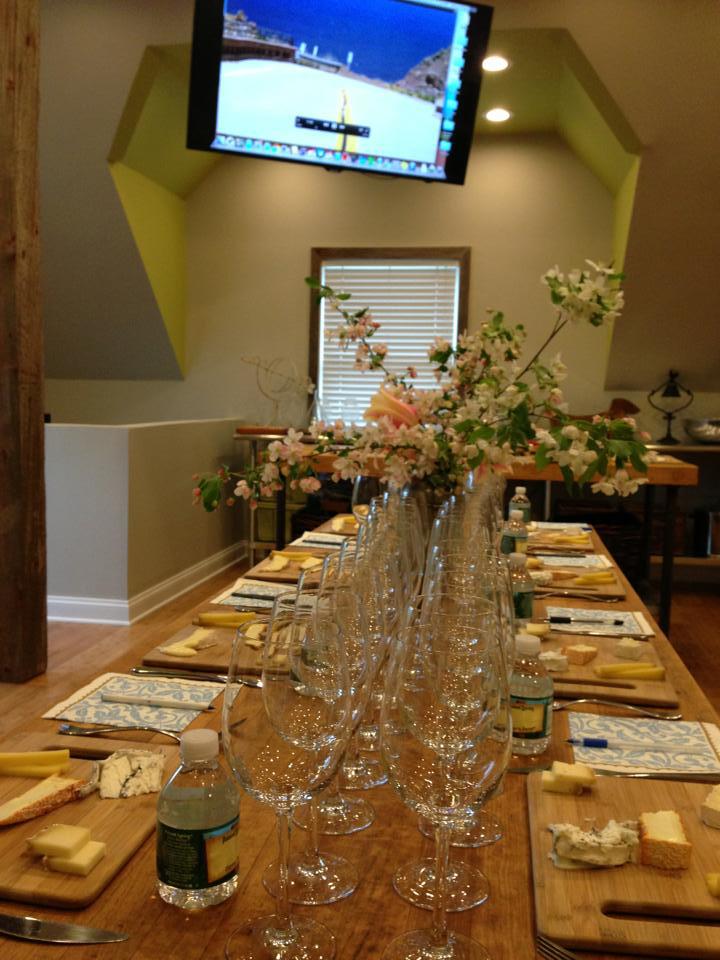 Exploration into Italy; cheese and wine .01 Friday, May 17 @ 7pm
Explore a great evening of Italian Cheese and Wine, their relationship and how to pair them. Class will start with some wonderful small bites and a glass of Prosecco, then continue with a tasting and comparison of 5 cheeses and wines. Something sweet will end this evening.
Sarah Wine Bar & 109 Cheese and Wine Dinner
Sunday May 19 2013 at 5:30 pm
Special Guest Henryk Teraszkiewicz, Director of the Woodcock Nature Center
Duo of Smoked Scottish Trout with a potato leek salad
Cep D' Or Rose Saint Tropez France 2011
–
Lobster Ravioli with spring peas and tarragon
Roccafiore Bianco Fiordaliso Umbria Italy 2011
–
Veal loin Chop with a ramp, corn risotto, chanterelle thyme reduction
Vinkara  Kalecik Karasi Tokat Turkey 2011
–
109 Cheese Selections
Chateau Roques Mauriac Bordeaux Superior France 2005
–
Dessert
Call for Reservations – 203 438 8282 $55 plus tax and tip

Understanding the movie "Sideways" Thursday May 23 @ 7pm
How many times have we seen the movie "Sideways" and wondered what are they were really talking about? Well, the wine and food geeks at 109 are here to rescue you. We will explore the movie subjects and taste the wines and most of all discuss the "Sideways" experience.
$55
East Coast Beer and Cheese  Friday May 24 @ 7pm
A continuing education on our exploration of the Northeast with the craft beers from New England and beyond, this class will start with some small bites and special starter brew. We will continue the class with an in-depth comparison of 5 cheeses and 5 craft beers.
Something sweet will end this evening.
$45
A lunch date with Pamela, the Boxed Goods entrepreneur
Friday May 31 @ 12:30 – 2:30
Pamela from Boxed Goods will be showing us simple healthy Indian cooking and a cheese demonstration on making Paneer (similar to queso fresco a great cheese for cooking). Cook, mother and businesswoman, Pamela will prepare paneer cheese and an easy delicious recipe that everyone will love.
Be prepared to take home a Boxed Goods gift!
$65
June:
Tasting with Winemaker Pierre Clavel from Domaine Clavel Languedoc
Sunday June 2 @ 2pm
More information to follow
Spain in depth with Emily :  Thursday June 13 @ 7pm
Just wine and a few tapas for your palate.  Emily from 55 degrees distribution will guide us through the fascinating wine regions of Spain, featuring the most amazing tastes of Rioja, Ribera del Duero, Priorat and much more.
$40
"Taste of the Marketplace" Saturday June 15 @ 11- 2
Join us for tastes from our local producers that we feature in our gourmet shops, plus samplings from the Marketplace restaurants & bakeries.
Come see what the Marketplace has to offer, talk with our shop and restaurant owners and fill all of your culinary shopping needs right here in Ridgefield.
In addition to the food fair, check out our great gift shops and amazing restaurants.
Stay for lunch or dinner, shop or just hang out on the sculpture patio!
Sparkling Wine and Cheese :  Date TBA
We have a special guest, Author and blog writer Cara Alwill Leyba (The Champagne Diet).
$55
Understanding the movie "Bottle Shock" Friday June 28 @ 7pm
On the Board – Date TBA
A Dinner date with Ridgefield Prime
Beef, Barolo, Barbaresco & Brunello Dinner – More to come on this exciting dinner.
http://109cheeseandwine.com/wp-content/uploads/2014/06/109-Cheese-and-Wine-Logo-black.png
0
0
Todd
http://109cheeseandwine.com/wp-content/uploads/2014/06/109-Cheese-and-Wine-Logo-black.png
Todd
2013-05-15 11:00:37
2014-06-25 14:37:38
Class Schedule for May & June