Bernard's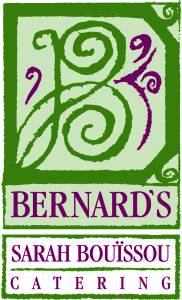 Bernard comes to the rescue with his selection of frozen hors d'oeuvres available exclusively at 109 Cheese and Wine Market.  Your party will be the talk of the town and it is so easy.
Truffle & Fontina Risotto Balls (15 pieces) $18.75
Risotto, parmesan cheese, fontina cheese, truffles and truffle oil
Vegetable Spring Rolls (6pieces) $12
Carrots, celery root, napa cabbage, scallions, ginger, sesame oil
Spiced Lamb & Feta Purses (12 pieces) $18
Lamb, feta, Moroccan spices, coriander, wrapped in filo
Sarah Wine Bar Crisps  $8
Rosemary and Parmesan, try them with our Goat Cheese Red Pepper Spread.
Sarah's Gourmet Flat bread Pizza (serves 2) $10
We offer 2 different combinations:
Grilled Vegetable with 4 cheeses
Brussel sprouts, lamb sausage with ricotta salata
Bernard's Pates:
French Country with black truffle terrine
Duck Pistachio with black truffle terrine
Seasonal selection
Chicken Liver and Black Truffle Mousse
Foie Gras Mousse
Duck Rillette
Bernard's Sauces for Meat: Truffle, Morel, Red Wine and Peppercorn
Bernard's housemade stocks: Chicken, Fish, Vegetable, Lobster & Veal