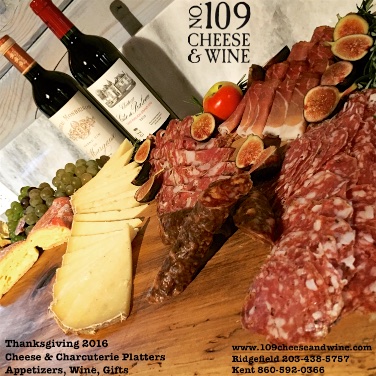 This is one of our favorite holidays!
It's so special because its all about family and food and at 109 we consider our customers and staff to be our extended family.  We love hearing the stories of great dinners, travel experiences, great recipes and more.  A successful Thanksgiving is one where all family members put aside differences, try not to talk politics and enjoy a perfect meal.  For me, the great thing about the thanksgiving feast is getting all of the great eats of years past and usually one or two new items that try and make the grade. Because relatives are usually part of the evening, wine is very important. We like to start with a Rosé or sparkling wine, then move into a nice white and finish with a Pinot Noir (large formats available in case you have lots of relatives visiting). We do lots of cheese platters and charcuterie boards for the pre-feasting hour. Bring us your favorite platters and boards and we can have them ready for pickup the day before Thanksgiving to make things that much easier.
We hope you have a wonderful Thanksgiving holiday and enjoy the time with your family and friends.
Todd, Monica & Otis
Download the menu for your pick-up location, fill it out, and drop it off.
We'd also be happy to take your order over the phone!