The Shop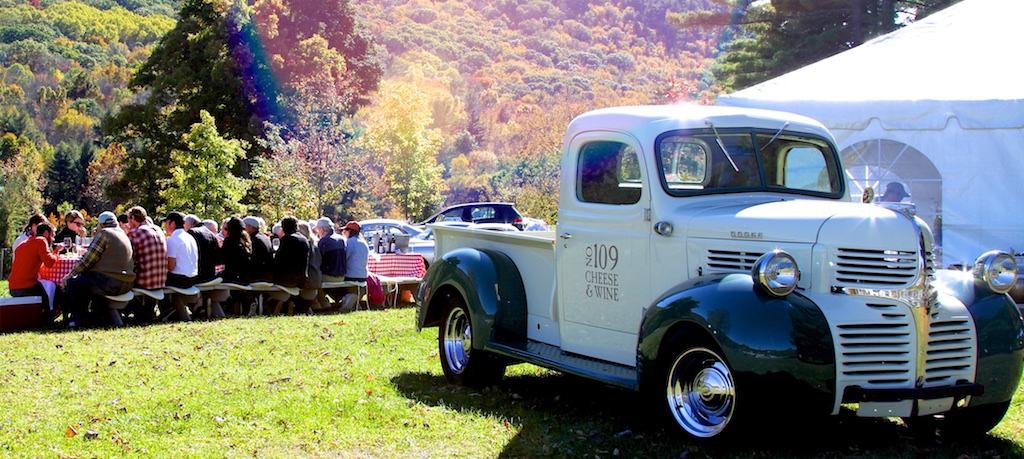 Bloomy, soft-ripened, blue-veined, flowery and peppery. Ridgefield's 109 Cheese & Wine Shop is a center for the education and appreciation for artisanal cheese and wine in northern Fairfield County.
Owner and cheese monger Monica Brown, with her husband and partner Todd Brown, fill their intimately-scaled shop with a carefully curated selection of cheeses, from a creamy Hudson Valley goat cheese, to a Benedictine-monk crafted sheep's milk cheese from northern France.
Cheese's perfect partners, 109 also stocks charcuterie and gourmet snacks such as flatbreads, terrines and hors d'oeuvres from nearby Bernard's Restaurant. Seasonal luxury food items such as black and white truffles, Jamón ibérico and caviar come and go with availability, while low-yielding producers of olive oils, vinegars and salts are staples year-round.
Located in Ridgefield's "Marketplace," a European-style collection of small food shops, 109 Cheese & Wine also boasts an intimate companion shop that sells a small but thoughtful collection of wine and craft beers chosen for their ability to pair with food. Rough-hewn wooden wine shelves and riddling racks line the walls of the shop, and an old barn window visually and physically connects to the adjacent cheese shop. The scale and materials lend to a feeling of intimacy, making the experience feel more like a visit to the private wine cellar of a friend, not a public market.
Private classes and tastings hosted by owner Monica Brown marry both sides of the business, from "Beer and Cheese of the Pacific Northwest" to "Pinot Noirs and the Cheeses Who Love Them." Co-owner Todd Brown, a vintage car enthusiast, spearheads a popular picnic basket program, with customers ordering packaged provisions for road trips near and far, or just an evening at the concert in the park.
Our biography was excerpted from Fairfield County Chef's Table written by Amy Kundrat and published by Globe Pequot Press in April 2014.
---
109 Cheese & Wine is owned by Monica and Todd Brown.
It begins in late 2001 when Monica and Todd went on a blind date at Baxter Park. Monica was on her cell phone busy selling 2000 Bordeaux futures and Todd was trying to make the date go better than it was. Luckily, things worked out and second and third dates were had and they eventually got married.
But first Monica had a dream of opening a wine store. It was a team effort and soon realized with the opening of Cellar XV in Ridgefield, a boutique wine store focusing on great wines around $15. In 2008 Monica decided to turn her focus to her next great love, cheese. In 2009 Monica and Todd opened 109 Cheese across the street from Cellar XV. As the cheese store quickly gained popularity they decided to sell Cellar XV and focus exclusively on the cheese shop and eventually the addition of a small boutique wine store that focuses on wonderful small production food friendly wines. The couple has expanded their reach with a second store in Kent, Connecticut and also incorporated a second floor classroom to the cheese shop in Ridgefield.
When not at the stores, Monica and Todd love road trips, time on Candlewood Lake and exploring great foodie destinations.
Monica is a sommelier and cheesemonger who is dedicated to bringing a curated selection of the best products from around the corner to around the world to 109. Todd, an avid car guy and foodie handles the social media and marketing for 109. He is also instrumental in day-to-day operations.
They live their lives together everyday with their rescue puppy Otis and wouldn't have it any other way. "Quality of life and spending it with the ones you love is more important that anything else" says Todd. "Life is short, eat real food, drink great wine and enjoy your friends and family".
In addition to cheese and wine, 109 C&W offers specialty foods and gift baskets, wine cellar management, kitchen products and unique antique finds.
Come on by and visit us, we are located in the Marketplace at Copps Hill at 109 Danbury Road in Ridgefield and at 14 North Main Street in Kent Connecticut.