CUSTOM CHEESE PLATTERS                  PRICE 
Let us design a custom cheese platter for you! Select your cheeses and add:
Cheese Platter Design                                                             $ 5.00
Disposable Platter      $6.00 small (4-6 ppl)__               $8.00 large (6-12 ppl)
Dried Fruit Selection                                                               $ 8.00
Grapes                                                                                         $ 8.00
Figs                                                                                             $ 5.00
Marcona Almonds from Spain                                            $ 7.95
Honey from Red Bee, Redding, CT                                     $ 8.50
Sweet and Spicy Pecans        $6.00 small ___               $ 12.00 large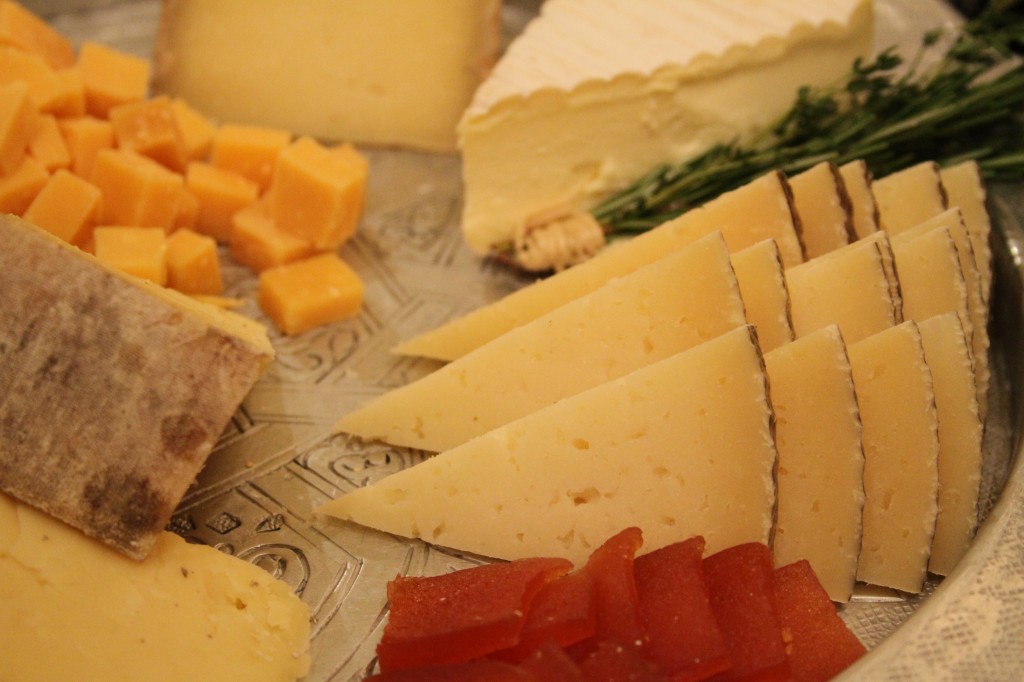 GIVING THANKS FOR AMERICAN CHEESEMAKERS PLATTER $95
Celebrate the national holiday with fine cheeses from our country's best cheese artisans! Each platter will be beautifully designed and feature: Approx ½ lb of each cheese, serves 8-15pp
Kinderhook, Old Chatham is delightfully creamy sheep's milk cheese, even spreadable, developing a natural rind and creamy, firm paste with mushroom overtones. NY
Mt. Tam Triple Crème made with organic cow's milk from Cowgirl Creamery, California
Bonne Buche VBC Ashed ripened goat cheese ladled by hand and aged for 15 days. VT
Milton's Flory's Truckle Cheddar is more salty caramel like Gouda though still with the mineral and grassy tang of cheddar. Iowa/Missouri
Rogue River Blue wrapped in brandy-soaked grape leaves from Rogue Creamery, Oregon
Grapes, figs and water wheel crackers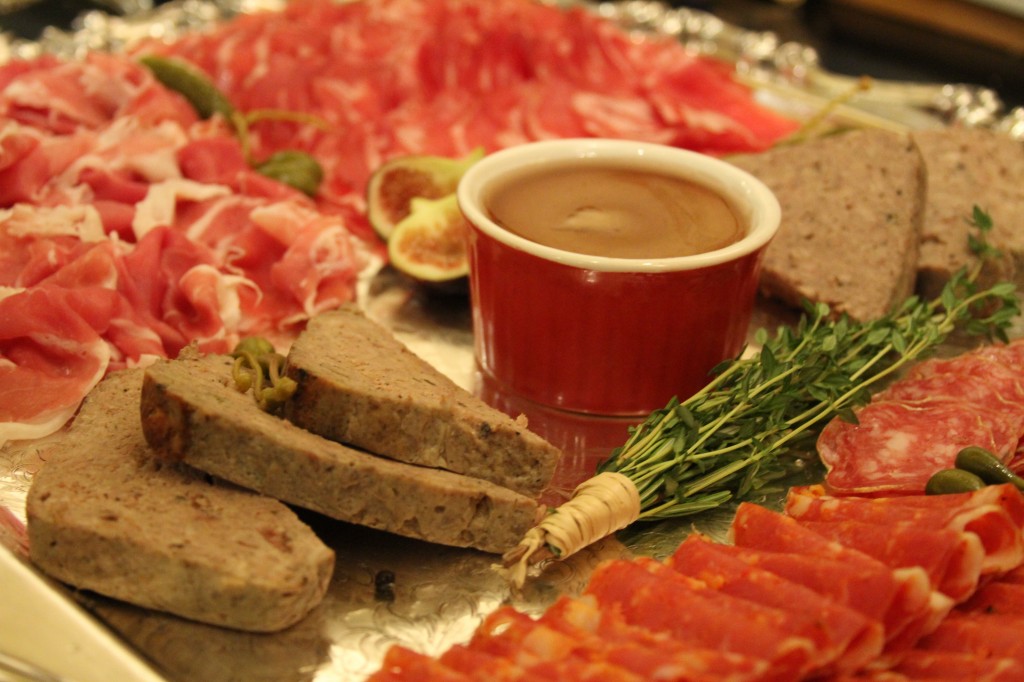 NEW WORLD, OLD TRADITION CHARCUTERIE PLATTER  $75.00
Enjoy a beautiful selection of traditionally crafted charcuterie made right here in America.
Serves 8-12 people. Each platter will offer: Approximately .35 lb of each
Duck Rillette (shredded duck confit) from Bernard's
Creminilli Picante slightly spicy
Finochietta dried fennel sausage from Saumeria Bielle, NYC
Molisana Salame with whole black peppercorn and garlic from Olli Salumeria, Virginia
Caperberries, cornichon, olives and roasted garlic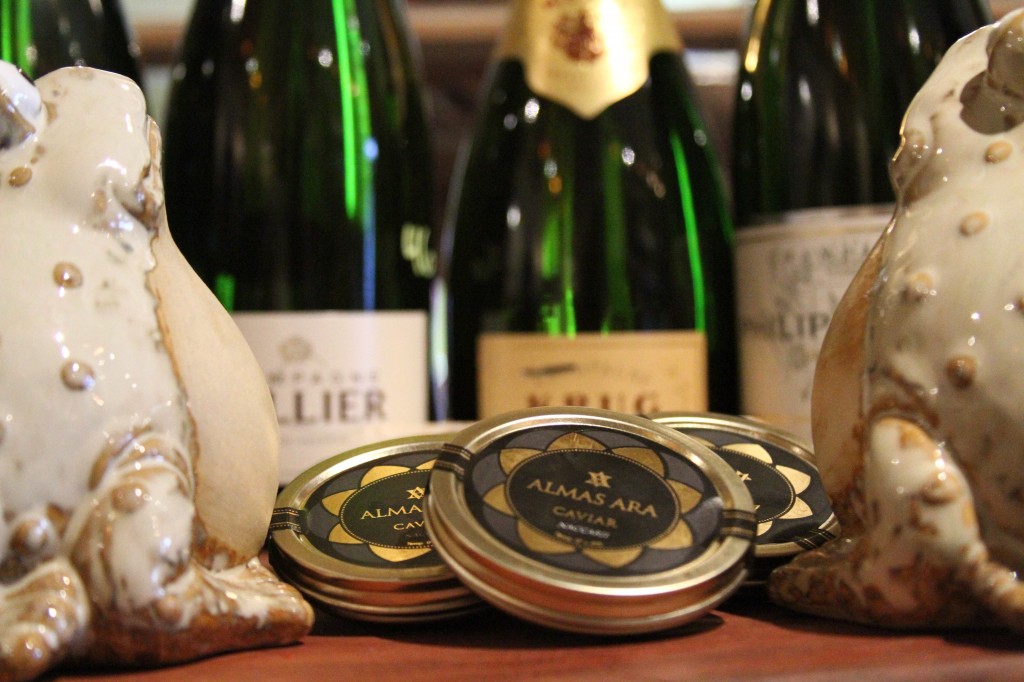 CAVIAR
Alaskan Salmon Caviar, USA 4.5 oz (125 grams)         $ 20.00
Almas Ara Caviar, Spain 15 grams                                    $ 42.00
Hackleback Caviar, USA 1 oz (28 grams)                       $ 35.00
Russian Ossetra 1 oz (28 grams)                                      $ 109.00
Blini (30)                                                                                 $ 11.00
Kendall Farm Crème Fraîche                                             $ 8.00
**Larger Sizes are available  – 48 hour notice needed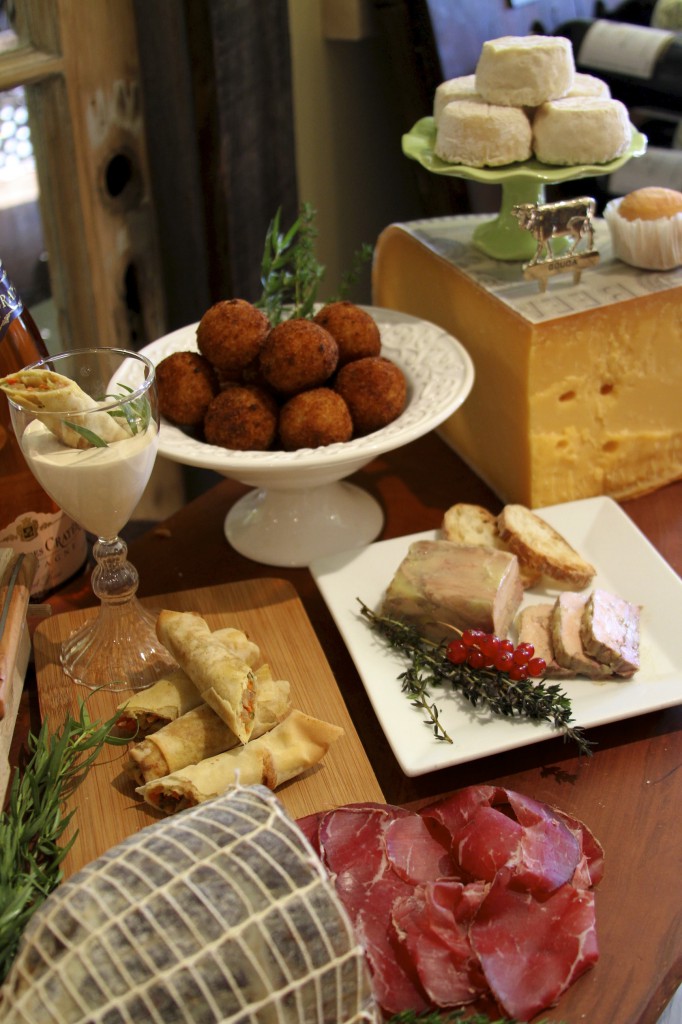 APPETIZERS                                                                                   PRICE   
Baked Vegetable Spring Rolls (6)                                                 $ 12.00
Spring Roll Sauce                                                                              $ 2.00
Brie encroute  (caramelized onion and thyme) serves 4        $15.00
Flatbread Pizza             -Grilled Vegetable and 3 Cheeses       $ 10.00
Pigs in a Blanket (16 pieces)                                                          $ 16.00
Risotto Balls with Truffle and Fontina (15 pieces)                  $ 18.75
Spicy Lamb Beggar's Purses (12 pieces)                                     $ 18.00
SWB Crisps                                                                                         $ 8.00
Baguettes                                                                                             $3.00
Whistle Stop Pies –                                    Small / Medium / Large   
Apple, 3 Berry, Chocolate Truffle, Pumpkin       $12/  $20/  $36
Chocolate Bourbon Pecan                                             $14/  $24/  $36
Jeni's Ice Cream                                                                       $11.99 pint        
Vanilla Ndali Estate
Salty Caramel
Brown Butter Almond Brittle
Riesling Poached Pear
Wildberry Lavender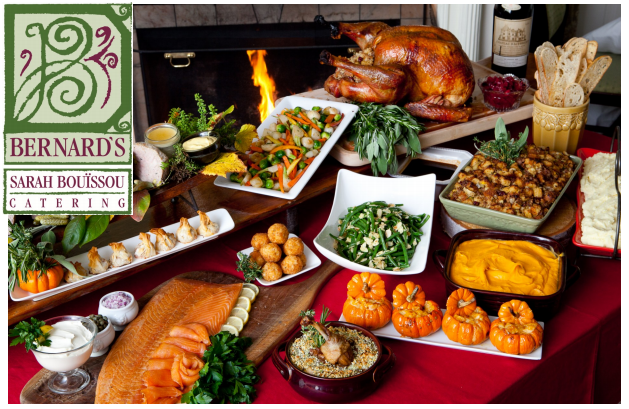 BERNARD'S THANKSGIVING SELECTIONS
STARTERS                                                                                            PRICE  
Butternut Squash Soup, quart, serves 4 people                           $ 10.00
Lobster Bisque, quart, serves 4 people                                          $ 15.00
Salad –                                                                                                     $10.00
Baby Greens with Toasted Pumpkin Seeds, Dried Cranberries with Apple Cider Vinaigrette, serves 2 people
SIDE DISHES                                                                each serves 3-4 people            Price
Baby Brussels Sprouts "à la française" w/ caramelized onions and bacon, 1 lb            $ 16.00
Baby Pumpkin Gratin (each)                                                                                                         $ 6.00
Bernard's Rich Turkey Gravy, 1 pint (4-5 ppl)                                                                           $ 6.50
Cranberry Chutney with apples, orange zest, ginger and maple syrup, 1 pint             $ 9.00
Haricots Verts Almondine, 1 lb                                                                                                     $ 16.00
Mashed Potatoes, 1 lb                                                                                                                      $ 12.00
Mashed Potatoes with goat cheese, 1 lb                                                                                     $ 14.00
Mashed Potatoes with truffle, 1 lb                                                                                                $ 16.00
Roasted Root Vegetables and Caramelized Cippolini Onions, 1 lb                                    $ 11.50
Sautéed Wild Mushrooms, 1/2 lb                                                                                                 $ 25.00
Stuffing, Vegetarian - brioche, cranberry, butternut squash and pecans, 1 lb              $ 9.50
Stuffing, Cornbread - sausage, chestnut and sage, 1lb                                                          $ 10.50
Sweet Potato Purée, Apples, and Bananas, 1 lb                                                                       $ 12.00
SAUCES (each serves 6 ppl)                             8 oz 
Peppercorn Sauce                                                        $ 12.00
Porcini Sauce                                                               $ 16.00
Red Wine Sauce                                                          $ 14.00
Truffle Sauce                                                                $ 16.00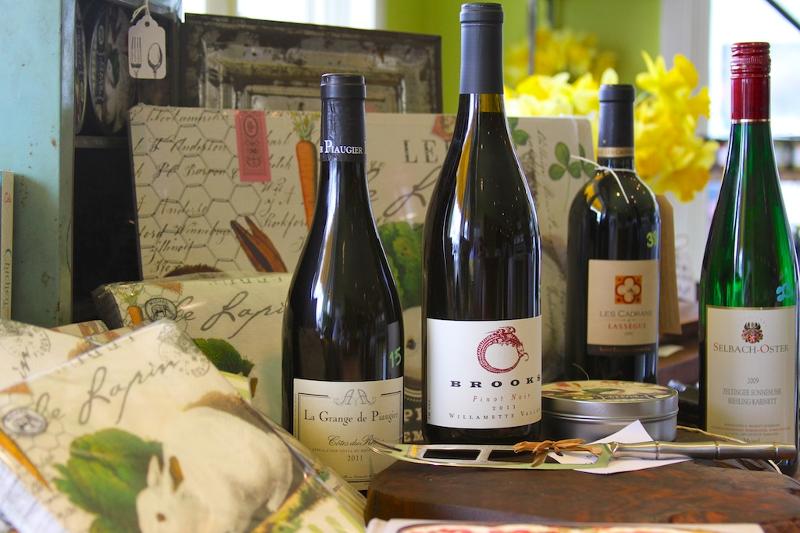 Don't forget the Wine! – Ask about our perfect Thanksgiving Case
Pick up:
            Tuesday November 26             2pm-6pm          ________
            Wednesday November 27
                                                            10am-12 noon   ________
                                                            Noon- 3pm       ________
                                                            3pm-6pm          ________
No. 109 Cheese and Wine call for ordering 203.438. 5757
or stop by 109cheeseandwine.com
On Facebook – Twitter – Pinterest 
{ 0 comments }